CHP Program
Are you a motivated English speaking student on your way to become a doctor, nurse, dentist, physiotherapist, midwife, paramedic, or another healthcare professional?

Do you want to stand out and gain the competitive advantage in comparison to other students with the same aspiration? 

Are you in the last years of your A levels, in a gap year, or currently in your premed or pre-health university program?

Do you seek for individual elective rotations as a medical or nursing student? 

Do you consider various specialties in healthcare that you would like to focus on? 
Then the Czech Hospital Placements Program offers you a once in a lifetime experience that can shift the trajectory of your life! Short-term hospital placements under the supervision of real professionals in various specialties! 
Czech Hospital Placements Program by BPLANS
As a result of our close cooperation with the hospital, you have all the information before you decide to apply. We work directly with the mentors and departments to give you the best experience possible. The team that supports you from the moment you apply will greet you when you arrive in the city. What's more, you are thoroughly prepared prior to your arrival with our exclusive study materials related to each of the specialty departments to ensure that you get the most out of your placement and enhance your experience. 
Once being a CHP Student you will be able to observe and shadow real professionals in a live clinical environment during their daily job tasks, surgeries, interactions with patients, or treatment procedures. All of this in the University Hospital in Motol – the top healthcare facility in Prague providing tertiary and quaternary care and the largest one in the Czech Republic – where excellent standards of treatment and high quality equipment are guaranteed for all generations of patients, with a special focus on children.
We offer a limited number of placements held in English each week with a variety of specialty departments, allowing you the opportunity to create a special bond with your mentoring team amongst a small group of students. This allows you to observe, analyze and compare the specific approach of the Czech standardized healthcare system. Having this new perspective can help in your professional specialty focus, personal statement, admission essay or during job and university interviews.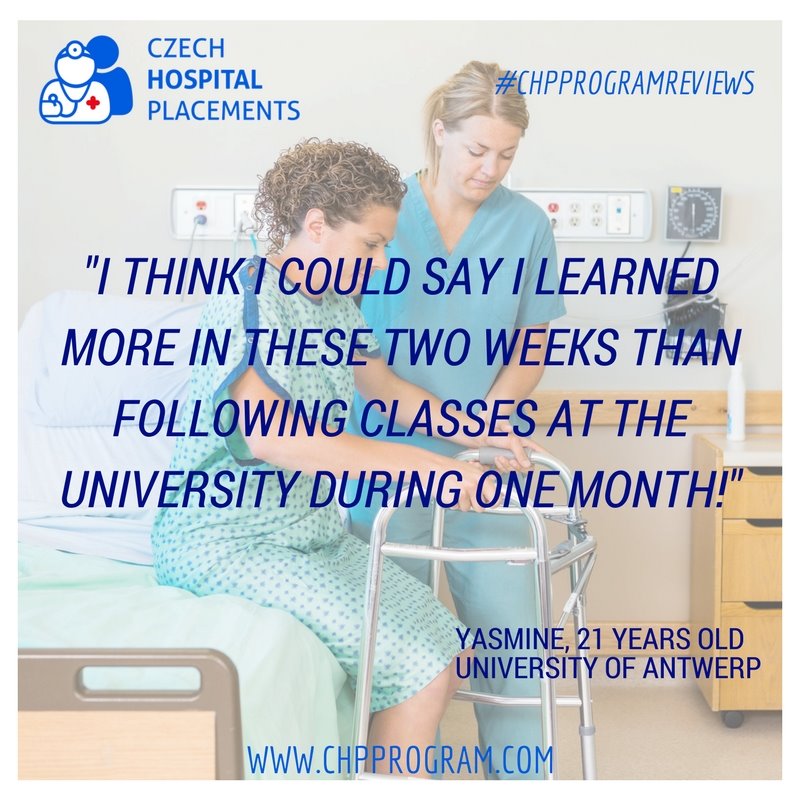 On completion of your placement you will be awarded with the CHP Certificate including your exam results, detailing all of the aspects of your studies and work experience in the program. This evidence can be a key element in your job application, or to an university application or higher education. We provide the best and most motivated students of the CHP Program who excel in overall approach with the CHP Personal Recommendation from the CHP Manager.  This includes a positive evaluation by the respective mentors, and is completely free of charge.  
Thanks to our unique online interface – the CHP System - you can manage every detail of your trip, with all the necessary materials you will need accessible by just one click. Moreover you have the advantage of planning your arrival to the Czech Republic, weekend trips, and other activities with your fellow students online ahead.
All within the breathtaking atmosphere of Prague, a city beyond comparison and the capital of the Czech Republic. 
The CHP Team is always here to help you, assist you and support you 24/7 from the moment of your registration, through your placement, until your departure back home.
Move out of your comfort zone and get ready to join prospective students from all around the world, to show that you have the initiative to become a healthcare professional. It is your chance to learn, to gain skills, to improve your abilities, and to build new relationships.  Make the most of this opportunity to enhance your career in an inspiring and exciting way.
Getting Started with the CHP Program
STEP 2
Tell us about yourself and fill in your arrival date
STEP 3
Discover the CHP System
You will receive access to a limited part of our online interface.
We designed it for you to
Study, Communicate, and
Get all the necessary information about your placement.
You have it all easily accessible with just one click
STEP 4
Know first – Pay after
We don´t want you to pay anything until you are assured that there is
a free spot in the department you desire.
When the placement is available you are asked to pay
the administration fee.
STEP 5
Share with us your goals and motivation
Simply, why do you want to become a healthcare professional.
Your thoughts and opinions are crucial, not only to us, but also to your
future mentors. It helps them to know you more prior to your arrival.
Special materials are waiting for you in the CHP System so you
are able to schedule your whole trip.
STEP 6
Your placement is booked and comfirmed once we recieve
the total payment.
Now you have complete access to:

Mentors' details, Departments, Hospital overview
Your schedule, Exclusive study materials
and Students message board

to get you ready for this experience!
Plan your arrival & weekend trips with fellow students, too.
In this phase we require 2 important documents:
Fit for Placement Form and Insurance Confirmation.
We will pick you up at Václav Havel Airport Prague (PRG) on Sunday.
You will meet with the other CHP students, our Team and the Program Manager
in person. We will go through all what´s necessary for your first day of placement.

STEP 8
Your first day in the hospital starts!
We will introduce you personally to your mentoring team and the lifetime
adventure begins! In addition to your shadowing hours in the hospital,
we will arrange for you Tutorials & Excursions.

Anyone eager for extra knowledge are welcomed!
STEP 9
Travelling is a part of your experience
Weekends are here for you to discover and explore breathtaking Prague,
the Czech Republic and other beautiful European countries.
Don't waste this opportunity!

STEP 10
Though unbelievable, your departure is here
Once this eye-opening experience is over, your opinion as our Alumni
student is highly appreciated. Afterwards, you will receive
the CHP Certificate as a summary of your placement. If you really
stand out, you will be entitled to a Personal Recommendation for
the best CHP students. Both are free of charge.

Stay in touch with us

LOVE WHAT YOU DO WITH EVERY HEARTBEAT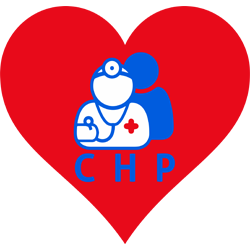 www.chpprogram.com
#CHPprogram
University Hospital in Motol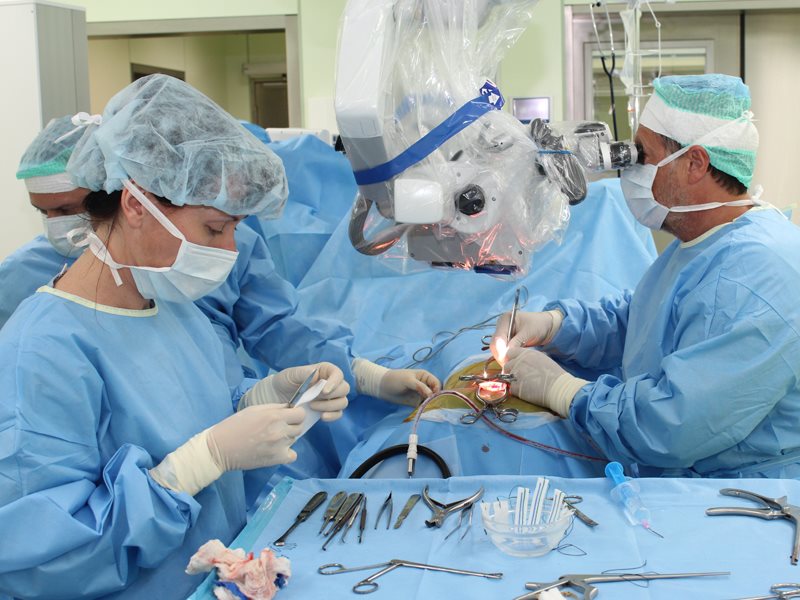 The quality of the hospital and the clinical environment of your placement is essential to the experience and knowledge you will gain while shadowing professionals. The reputation of the hospital will be very important when you present your experience and observations to an admission committee or prospective employer. 
The University Hospital in Motol provides very specialized care on a tertiary and quaternary level, a professional approach to patients, and employees willing to share their knowledge and skills with you.

Our hospital belongs to one of the most significant healthcare organizations in the Czech Republic. With an area of 348,000 m2 and 21,455 rooms, it is the biggest hospital facility not only in the Czech Republic, but also one of the largest in Europe. We concentrate on many medical specialties at one location with a special focus on children. This requires strong cooperation among specialties and necessitates complex medical care. The University Hospital in Motol has the highest quality of technical equipment, allowing for very specific treatment options unavailable anywhere else in the country. The hospital is able to perform heart and lung transplants and perform neurosurgery on both children and adults.
The hospital is sought out not only by residents of the Czech Republic, but also by individuals from other countries in Europe and the rest of the world for its reputation as a prestigious facility. With a department dedicated to providing healthcare in 6 languages, it is also the primary choice for foreigners visiting or living in the country.

The University Hospital in Motol participates in the international program "Health Promoting Hospitals" of The World Health Organization. This means the hospital implements specific principles of healthcare as directed by the WHO.
The goal of this hospital is to provide high-quality medical care at an international level to patients, from prenatal development into old age. Despite the hardships involved with treating complicated and sometimes terminal conditions, the hospital staff is well-known for their positive attitude and their ability to create the best environment for patients, relatives, students, and colleagues. As a teaching hospital, a focus is placed on scientific innovation and the distribution of knowledge to students and to the academic community.
You are invited to our hospital for an excellent opportunity to learn and obtain practical insight into what it really means to be a healthcare professional. This is a truly eye-opening experience at one of the top medical facilities in Central Europe.
The guiding principle of the University Hospital in Motol is our comprehensiveness of care. We provide treatment through our 55 specialized centers, which cover the majority of current medical specialties. I sincerely believe that the experience and knowledge which can be acquired from the mentors in our hospital will be of great benefit to anyone. The students who come to our hospital have a unique opportunity to be a part of professional medical teams whose leading specialists are among the best in the Czech Republic and, in fact, the world.

JUDr. Ing. Miloslav Ludvík, MBA, director of the University Hospital in Motol, former Minister of Health of the Czech Republic
Mentors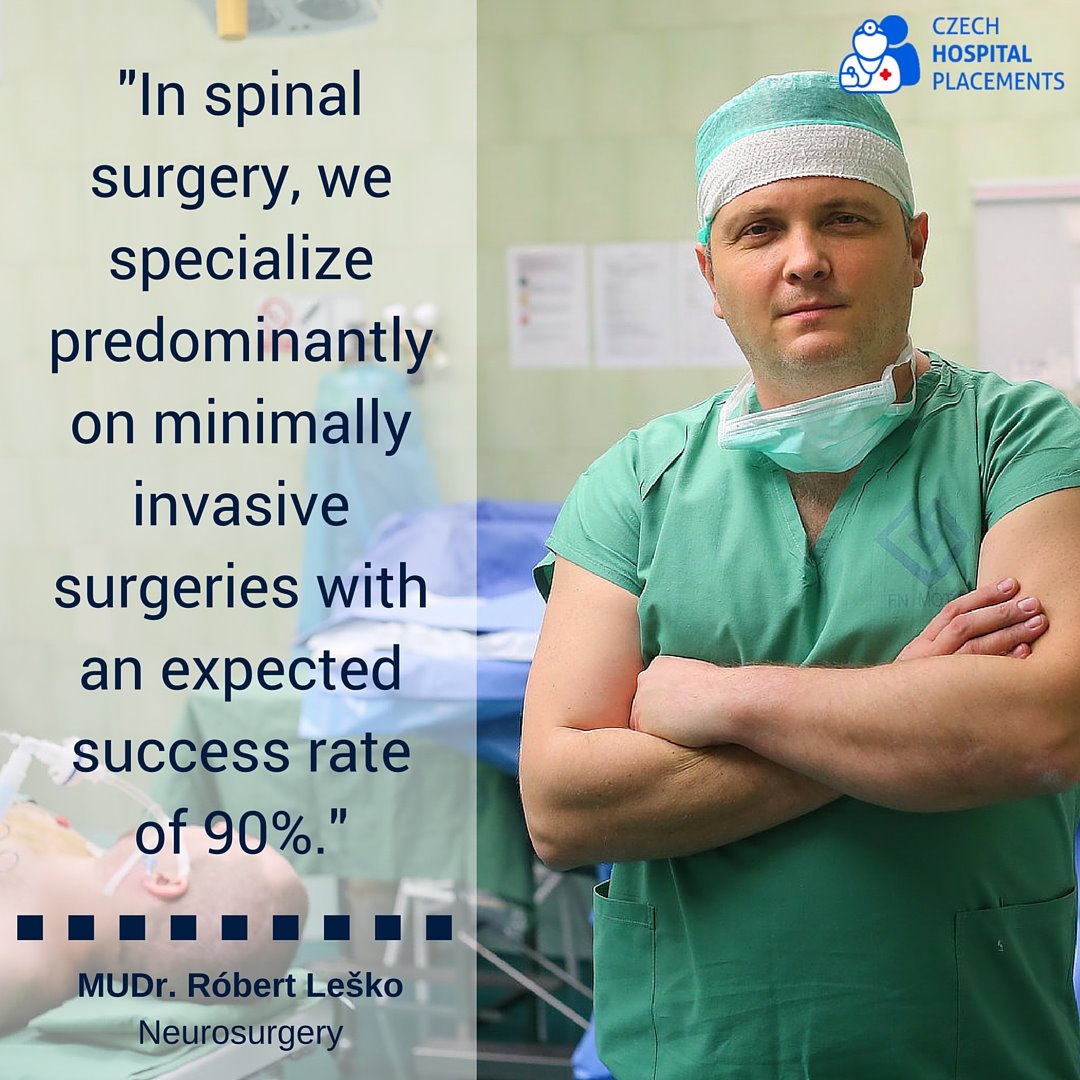 Our mentors are English speaking  doctors, nurses, midwives, physiotherapists, dentist, paramedics and other professionals, coming from various fields of healthcare with different backgrounds and specializations. All of them know their demanding job by heart and they genuinely love it. Shadowing our mentors will give you a better understanding of the specialty, and will give you the chance to see yourself in the demanding environment, and to discover what will motivate you to pursue this career.
Just have a look at each department's description and the mentoring teams' profiles to decide which department and specialty is the right choice for you. This way you are certain to shadow the right person with the skills and abilities you want, for at least 25 hours per week. 
Before your arrival each of the mentors at the chosen department can see a limited section of your profile in the CHP System. Your expectations, motivation and education will create an important impression on your mentor!  
The CHP Mentors are able to evaluate you during your placement through personal notes in the CHP System, based on your approach and potential. This is a key element of your overall results and of the Personal Recommendation for the best students of the CHP Program. Generally professional personal references are crucial to your future studies in the field or even in the future when searching for employment.

The mentoring team is shadowed by one or two students with the similar level of knowledge, which creates a great opportunity to ask questions, while your mentor explains to you the case of a patient in detail; allowing a personal bond to develop between the mentor and students. You will also meet your mentors during the Tutorials & Excursions which are supervised by them. So don't hesitate to be as proactive as you can!
Prague and the Czech Republic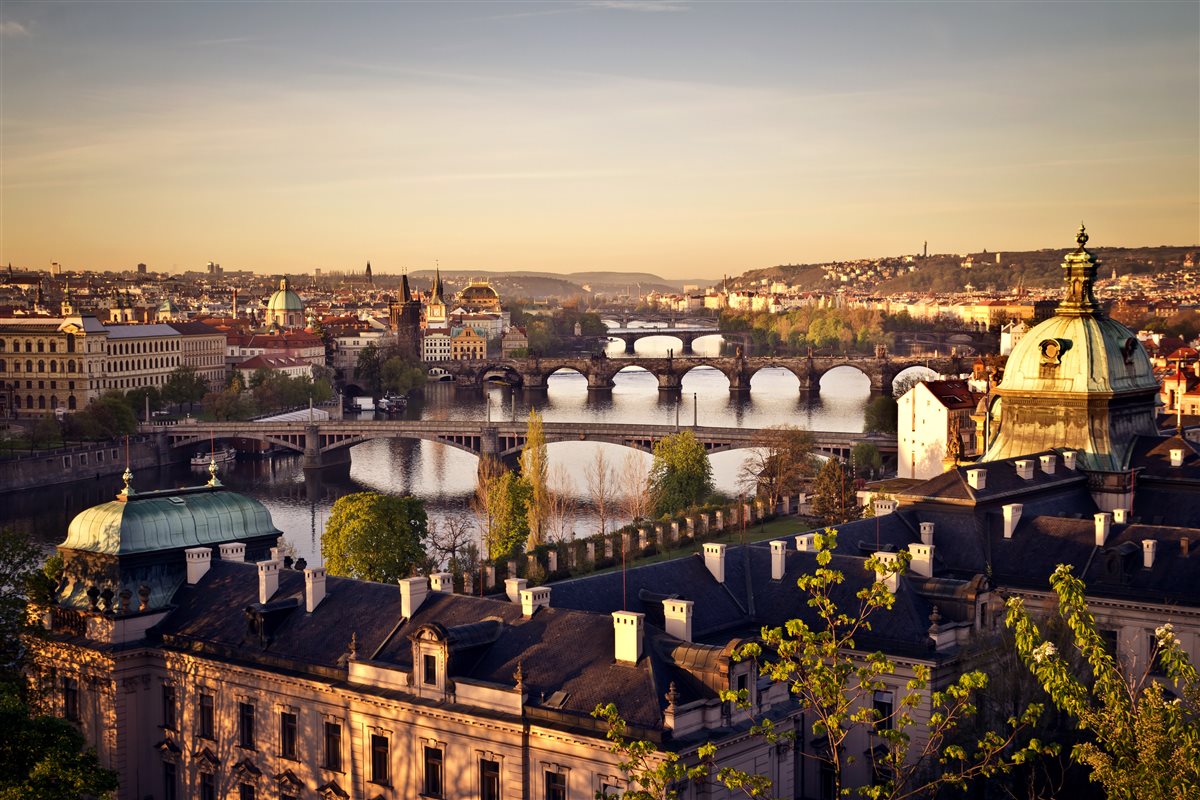 There are only a few places on Earth as beautiful as the Czech Republic. Don't believe it? Prepare to be overwhelmed by the beauty of the land, where the biggest jewel is its breathtaking capital Prague.
Czechia is known as the heart of Europe. It is one of the most peaceful countries in the world, surrounded by its neighboring countries, Germany, Poland, Slovakia and Austria. Its position is ideal for travelling around the continent, and it is easily accessible by various means of transport. Although it is a part of NATO and EU for a long time, it has its own currency called the Czech crown, which has a great exchange rate against the USD, GBP, and other currencies. This will make weekend trips very affordable for everyone!
The hospital work placement abroad simply wouldn't be complete without discovering Central Europe, its culture, cuisine, hidden treasures, and beauties. Every member of the CHP Team has been through a similar kind of experience and we know personally that sometimes it can be quite difficult when you are away from home. That is why we have prepared for you a set of practical written guides with handy tips on how to take the most of Prague and be at home there. 
CHP Team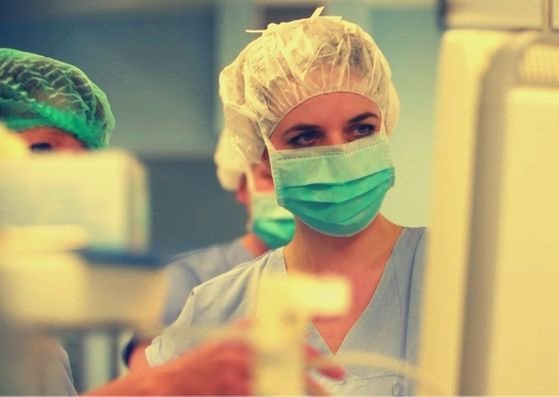 Our students are the number one priority for the CHP Team. We want you to feel safe and secure, and that is why we are available 24/7 to help you with everything you need. The year 2020 increased the importance of our approach, do not hesitate to check our COVID-19 Policy. We do our best to make you feel comfortable and safe in this new social and cultural environment. We have the office in the University Hospital in Motol's area so you can count on us in every situation. 
We support you before, during and after your placement. Read a bit more about who stands behind the idea od the CHP Program in the GoAbroad.com Interview. Do not hesitate to get in touch if you want to book a call via Zoom with our manager, Mgr. Barbora Vagnerova, E.MA who can discuss with you all about your placement and the CHP Program.
Before your placement
We are with you from the moment of the application and are happy to answer any questions you have before you decide to take part in the CHP Program. Do not hesitate to contact us for more details about the departments or anything you would like to know about the CHP Program. We are happy to schedule a meeting with you directly in the hospital before your placement, too.
On the placement
Our experienced team is with you 24/7, ready to help you whenever you have a problem, if something is unclear, or you need support. We pick you up at the airport, help you become familiar with your new CHP Accommodation, and introduce you to your mentoring team. We are always there for you inside and outside the hospital as well. We know the hospital and mentors personally. The CHP System enables us to communicate with the mentors and the hospital management quickly and effectively. We are here to answer all of your questions about the Czech Healthcare System, too.
After your placement
We are happy to stay in touch with you even after the CHP Program once you are our part of our alumni. You might need additional information about your placement months after your departure. Furthermore, we would like to follow your future path and see how you are doing following your dream.
Our goal is to make your placement a lifetime experience, both inside and outside of the hospital. We realize this may be the first time for you traveling abroad and we are happy to talk to your parents or student advisors to help you prepare. Your parents may visit the special section of our system to get more information or get in touch with us directly.

CHP Program Ambassadors
Would you like to speak about the CHP Program with a student who already took part and spent some time in Prague with us? Would you like to hear useful tips and bits of advice on how to get ready for your placement ahead and how to get the maximum out of it while being here? Have a look at our CHP Program Ambassadors, Alumni of the CHP Program to contact them directly.
References and Partners
Director of University Hospital in Motol and former 

Minister of Health of the Czech Republic, JUDr. Ing. Miloslav Ludvík, MBA:

I sincerely believe that the experience and knowledge which can be acquired from the mentors in our hospital will be of great benefit to anyone. The students who come to our hospital have a unique opportunity to be a part of professional medical teams whose leading specialists are among the best in the Czech Republic and, in fact, the world.

Member of the Quality Control Department at University Hospital in Motol, Doctor in the ER for Adults and Hospital Coordinator of the CHP Program, MUDr. Otakar Buda, MBA: 

I helped with the launch of the Czech Hospital Placements Program, and I will do my best to ensure that the entire process of student placement in our teaching hospital goes as smoothly as possible.

I believe that the CHP Program is a great opportunity for both students and mentors. Students who want to get familiar with their future profession will see real professionals in action as well as the everyday realities of having a job in a hospital environment. This experience will surely help them in choosing the right field or specialty.

Mentors, who once were students themselves, can share the details of their everyday work in a prestigious hospital. They can explain to students the personal fulfillment they feel as healthcare professionals and show them how important the decision between the various specialties is. This sharing of experiences and personal bonds among experienced professionals and promising young students will consequently bring benefits to our patients in the form of improved treatment and quality of care.

Senior Investigator in Medical Neuroendocrinology, Intramural Research Program of the National Institutes of Health, Karel Pacák, MD, PhD, DSc, FACE:

Although I am working as an endocrinologist in Bethesda, Maryland, I am familiar with many aspects related to Czech health care. The Czech Hospital Placement Program launched by the Czech health care system is a wonderful environment where people are able to gain clinical experience and knowledge in the field of medicine, surgery, radiology, and many other subspecialties. The devices you might work with, and the procedures you may witness, are well comparable and competitive with standards in other countries.

Czech physicians belong to a group of very well respected professionals around the world. I would personally recommend the Czech Hospital Placement Program to those who desire to work as a physician in a hospital. I also believe that all participants will gain many valuable experiences for your future studies and professional career.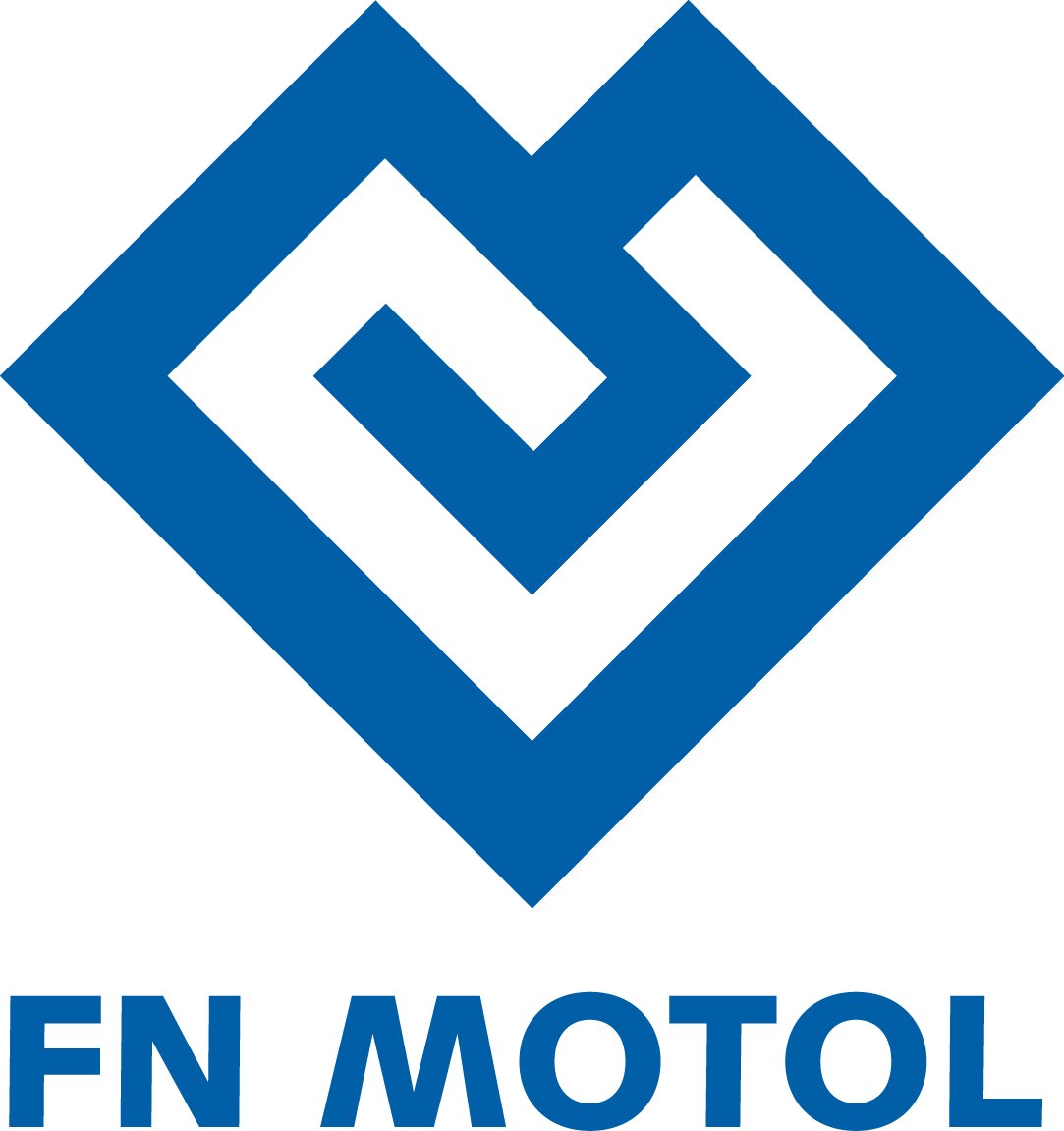 University Hospital in Motol about CHP Program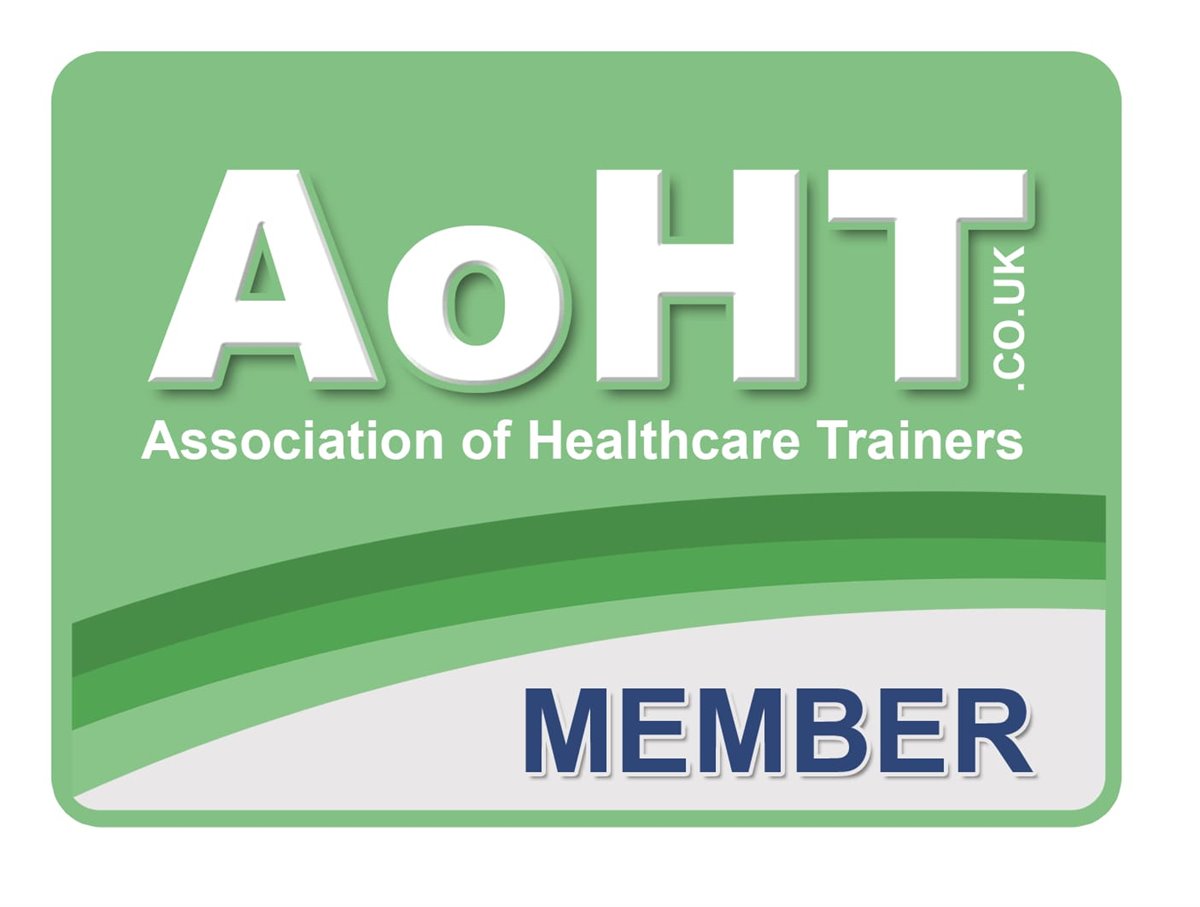 Association of Healthcare Trainers 
Check+ Verification on GoAbroad.com 

Raise Funds for your placement with FundMyTravel and CHP Program
Whom do we support in our company?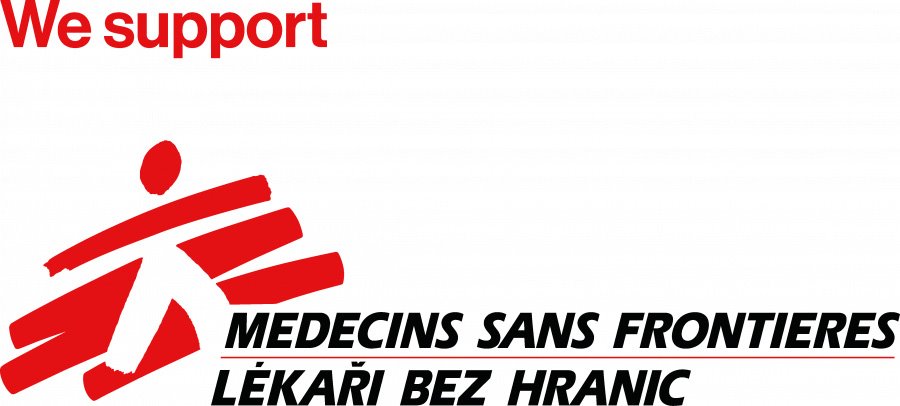 We are grateful to support the Czech branch of Doctors without borders on behalf of our company BPLANS be organized for years as we so much appreciate their effort and dedication.
Student Reviews
I compared a few different programs, but Czech Hospital Placements really gives me a feeling of professionalism. The Program takes place in a large, modern hospital in the center of Prague, doctors are very friendly and I was treated like a medical student in specialty training.

Grant, 22 years - University of Oxford
The CHP Program actually gave me the necessary knowledge to set even more precise and clearer goals in terms of my medical education while giving me the opportunity to decide which specialties are better for me and which aren't suitable for me. I had really learned a lot! Besides loads of medical knowledge, I also learned about important aspects of doctors' careers like balancing private life and successful career, time management and important characteristics every doctor should possess. All three of my mentors, Dr. Bartošova, Dr. Vrabcova and Dr. Pavličkova were giving their best to teach me and show me as much as possible in just one week. The amount of time which they devote to me was above my expectations and they truly had treated me as their fellow colleague. While being more than professional, they had also created warm and friendly teaching atmosphere and were always happy to answer my questions (which I had a lot :-)). The departments chosen for tutorials are really suitable for us to get brief introduction in other medical fields and experience the cooperation between different departments. The tutorials I found the most interesting was suturing techniques as I also gained valuable practical skills. For Ms. Barbora and Daniel, I have nothing but gratitude as they were being supportive, motivating and inspiring throughout my whole week. They truly encouraged us to get the most of our experience and were always there with helpful pieces of advice for us.

Lorena, 19 years old - Prva Gimnazija Varzdin
I have gained an incredible amount of knowledge from the fields I signed up for, not only from preparation materials for the shadowing but also from the doctors and nurses themselves. I have yet to take anatomy, but I feel that I have really gotten a headstart from how much exposure I've had to the terminology and seeing the actual parts in person. I was able to achieve my personal goals that I had set out prior to this program. I wanted to get a better sense of whether I could handle the emotional weight that comes with being a pediatric surgeon, and after my time in the Children's Heart Center, I found not only my passion--tending to children--but also realized that I am capable of detaching myself from the patient. I really look forward to a future in pediatrics and am happy I found my resolve here in the CHP Program.

Jia Jia, 19 years - Harvard University
In the two weeks I spent shadowing the mentors, I learned a lot! I think I could say I learned more in these two weeks than following classes at the university during one month! I loved my mentors of the neurosurgery department: Ales Vlasak and Petr Liby! I have also to say that I was pleasantly surprised of the two days that I spent at the ICU. Michaela Rihova is so nice and experienced to explain everything so well! At the ER department there were not always many patient cases, but still the mentors were so kind to answer all my questions and to tell me about their experiences. Thanks to this experience, I'm even more enthusiastic about neurosurgery than I already was! It has been a pleasure to see how Ales and Petr are so dedicated and involved! I'm so glad that I took this opportunity with both hands! I'm also proud of myself that I decided to go for it! This program was a great experience and it definitely had an influence on my personal development, too.

Yasmine, 21 years - University of Antwerp
In the CHP Program, I was treated as a medical student rather than a high school student and generally treated as a very responsible, mature person. Because of that, it was easy to actually feel the vibe and understand the idea of being a health professional. I also got to work with various doctors and nurses, which gave me a broader image of what the work looks like. All the mentors I got to shadow were truly amazing, very keen on teaching and explaining. The mentor standing out the most would have to be MUDr. Petr Libý, who aside from showing me the medical point of view also made sure to explain the personal aspects of it. The experience definitely showed me a more human side of neurosurgery, as well as taught me a lot about surgical techniques and procedures. I found the tutorials and excursions very interesting and valuable. Aside from the information presented during, they also included a lot of interesting mentions that I wish to read up on.

Zofia, 19 years - Monnet International School
My placement at University Hospital in Motol was an unforgettable experience. Dr Kysiko explained xray, angiography and ct scans very well. I shadowed Dr Koci in the paediatric radiology department and we looked at ultrasound. Dr Koci was not only great at explaining the patients' conditions but also relating it to my understanding of physiology and also explaining exactly how the ultrasound works. Dr Miksik helped my understanding of MRI scans and exaplained what the next step would be for patients or what can be done to improve their condition. I was in the emergency radiology department with Dr Stefanek. He told me about future technologies including sheer-wave elastography as well as advantages/disadvantages of various screening methods used today. Dr Stefanek also knew a little about studying medicine in the UK vs the Czech republic which was very helpful. The tutorial to the nuclear medicine and infectious diseases departmens were fantastic as I got to see other parts of the hospital that work along with radiology/diagnostic imaging. My time in CHP Program is highly relevant to what I would like to do in the future and therefore incredibly valuable.

Ella, 21 years - University of Glasgow
I would recommend they try the CHP Program so their child can get a feel for what they want to do as a healthcare professional. It may be one of the best decisions opportunities provided for their child's life so they know what the profession is about. Nothing worse than having them change majors later or deciding once they have a job, that they don't like it. On the other hand, getting an experience like this only enhances their desire to do well. I was extremely satisfied with the outcome. Payton really liked the staff at the hospital, the balance in the program, and the ability to learn both about the University Hospital in Motol and Prague. She is considering doing this again since she loved the experience.

Tom, father of our Alumna Payton - Manager in International Company
My expectations were not only fulfilled but surpassed. Before this program, I wasn't sure if I would be interested in surgery. Now, I am very excited to explore surgical healthcare fields. Whenever I witnessed a certain type of surgery for the first time, whether it be coronary bypass surgery or a thyroidectomy, I was mesmerized by the level of expertise and confidence the surgeons had. It inspired me to one day achieve that same level of skill.

Catherine - University of Texas at Austin
An unforgettable learning experience and a great opportunity for students interested in pursuing a career in healthcare. I stumbled upon CHP last year as I was researching internship programs and I was intrigued to find out more about this particular one. I began to communicate with the program manager via e-mail and she was always prompt and ready to help. The application process was easy to navigate through and the CHP website is user-friendly. Arriving in Prague you will notice that everything is very organized and straightforward. You will have an opportunity to have your questions answered and if you need any clarification you can always count on the program manager and/or the host where you will be accommodated. My hospital experience was absolutely incredible. My mentors were extremely dedicated to their jobs and passionate about teaching others about the field. You will encounter many opportunities to witness different procedures and/or surgeries on a daily basis depending on your chosen specialty. The hospital staff was very friendly and they treated me with respect despite not being fluent in Czech. I thoroughly enjoyed every minute of my time there and I highly recommend this opportunity to every student who wishes to travel abroad and find out what it's like to be working in healthcare.

Larisa - The University of British Columbia