CHP Program Ambassadors
Would you like to speak about the CHP Program with a student who already took part in it and spent some time in Prague with us? Would you like to hear useful tips and bits of advice on how to get ready for your placement ahead and how to get the maximum out of it while being here?
We want to present to you our CHP Program Ambassadors! Excellent students and talented individuals who are ready to give you practical insight and feedback on us.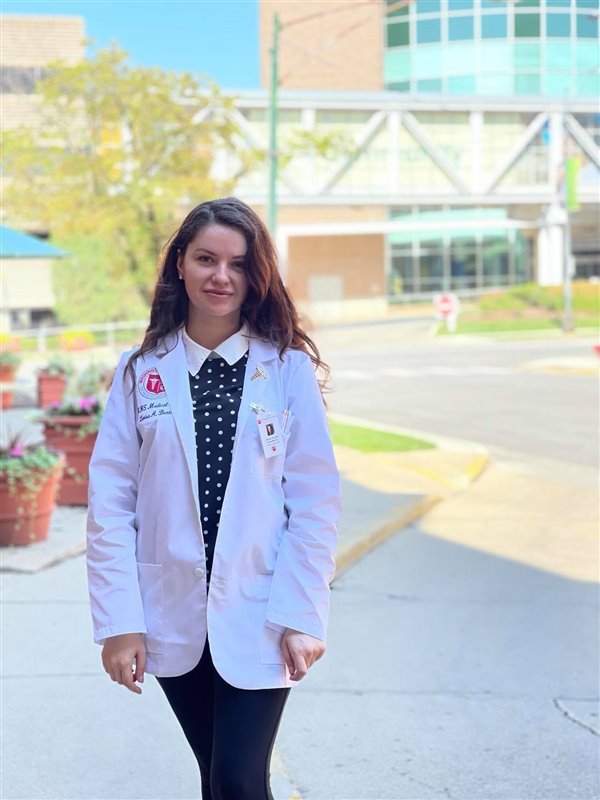 Larisa Benta
United States, North America
Larisa Benta is a student at Washington University of Health and Science and also an experienced healthcare professional, who worked as a Registered Psychiatric Nurse for the past three years in the province of British Columbia, Canada while deciding to pursue her career in medicine.
Why do you want to become a healthcare professional?
Medicine is a rewarding career filled with numerous ways to make a difference in people's lives. Physicians, among other health care professionals, are strong advocates who strive to improve resources and services for patients in order to achieve better health outcomes. My ultimate goal is to play a part, no matter how small, in providing quality health care services to our patients according to the changing needs and trends we are witnessing in this day and age.
What do you love the most about nursing and medicine? 
Health care is a fascinating field as it creates a path for new challenges on a daily basis. I've been working as a Registered Psychiatric Nurse for the past few years, and I can honestly say that every day has presented itself with challenges, difficulties, or stressful situations, however, the beauty lies in collaborating with other members of the health care team to create new and better ways for health care services. 
Why did you take part in the CHP program?
I wanted to attend an internship program that allowed me to shadow physicians and witness a variety of surgical procedures. I am thankful I had the opportunity to learn about my chosen specialty and the responsibilities it entails. I thoroughly enjoyed every minute of time there, and I highly recommend this opportunity to every student who wishes to pursue a career in health care. 
Why have you become the CHP Program Ambassador?
I've decided to accept this once-in-a-lifetime opportunity to share my positive experience and hopefully motivate other students to attend the CHP Program. It is truly an experience you won't regret.
Get in touch with Larisa, our CHP Program Ambassador based in the USA
LOVE WHAT YOU DO WITH EVERY HEARTBEAT