Scholarship Opportunity: Do You Want to Gain a Tangible Hospital Work Experience?
Written by Czech Hospital Placements on Friday, November 11, 2016
Scholarship, CHP Program, video contest, jury, winners, one week placement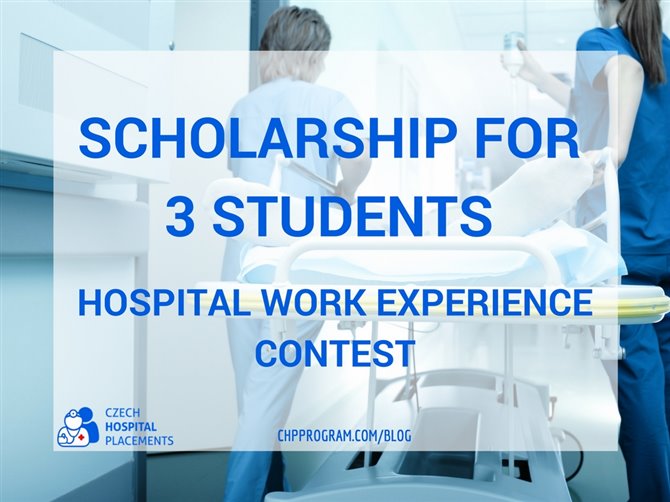 We are searching for young English speaking students who dream to become doctors, nurses, midwives, paramedics, physical therapists, assistants and other healthcare professionals one day! If you want to gain a hospital work experience in a top clinical environment and in the specialty of your choice, take part in our scholarship contest!
Czech Hospital Placements Program will offer three scholarships for a one week placements in the best hospital in Central Europe. The winners will choose their mentoring teams they can shadow during the daily tasks in Neurosurgery, Cardiovascular Surgery, Gynecology and Obstetrics, Emergency and many other exciting specialties.
What to do if you want to take part in the contest?
Make a one minute video explaining to us why you want to become a healthcare professional, what is your motivation to pursue this career path and why we should choose you for the scholarship?
Send us your video via email at info@chpprogram.com and fill in this contact details form. We will post your video on our FB page and then it's up on your friends and family to support you by likes and shares. We will pick 10 videos with the biggest number of likes. You can participate in the contest and send us your video until the 21st March 2017 in the first round of our contest.  
UPDATE: We have decided to prolong the deadline, you can send us your video during summer 2017 till the end of September in the second round of our contest. Make the best out of this opportunity and check the videos of student contestants on our FB page.
How do we choose the winners?
Our jury - that will pick the 3 winners to be awarded by the scholarships - consists of doctors, nurses, midwives, paramedics and other healthcare professionals who participate in the CHP Program and whose profiles you can see here as well as why they decided to do their profession. We will choose the winners by the end of March 2017 in the 1st round of our contest.
What is the scholarship amount and what is included in it?
The scholarship amount equals half of the total price of a one week placement (550 GBP|815 USD|750 EUR) . We were able to generate a higher amount to support the talented students who would like to pursue their career in healthcare and instead of a chance for one student we decided to offer 3 scholarships. In one week placement you can get:
Shadowing your mentoring team 25 hours per week minimum in the largest and most modern hospital in the Czech Republic in various specialties such as Anaesthesiology, Resuscitation and IC Medicine, Radiology and Diagnostic Imaging, Neurosurgery, Children' s Heart Center, Obstetrics and Gynaecology and many others
Educative Tutorials and Excursions with mentors 3 times per week for CHP Students only
Study Materials to extend your specialty knowledge before your placement starts
Accommodation and Food during your placement
CHP System to control your trip with just a click
24/7 CHP Team support
So what are you waiting for? We are looking forward to your video! Stand out and make the most of this opportunity!