Student of the Week: Payton, the Future Trauma Surgeon from California
Written by Czech Hospital Placements on Monday, August 14, 2017
CHP Program students, reviews, personal experience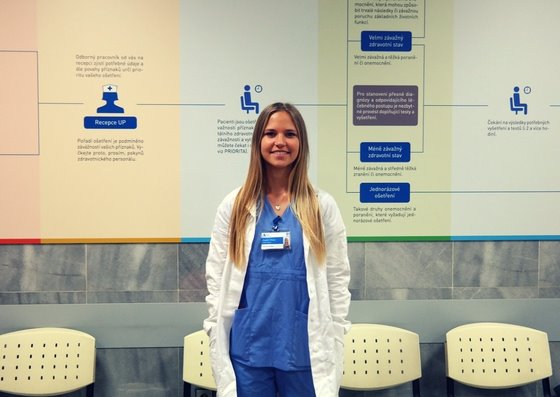 In our Student of the Week series, we introduce one of the CHP Program's students. Payton Olson comes from a sunny California, she is a pre-med student from San Diego State University. To her career plans, Payton says: "I am most interested in the surgical and emergency care aspects of the healthcare field. I hope to become a trauma surgeon in the future. I love a high-intensity work environment because I feel I perform the best under high-stress situations. As for the surgical aspect of the profession, the human body intrigues me, the way it functions and works and the fact that surgeons fix the body really interests me."
Why have you decided to become a healthcare professional?
I've decided to become a healthcare professional when I was a kid already because a lot of my family members have had serious health problems, such as Multiple Sclerosis. So it intrigued me to go into the medical field and then I realized that helping people felt so great that I really wanted to pursue this path.
What is the specialty that interests you the most?
I want to be a Trauma surgeon because I want my days to be unpredictable. I don't want to spend my working days only by sitting in the office, as I love an everyday challenge. To never know what can happen during the day that is why trauma surgery is so interesting to me.
Taking part in the Czech Hospital placements Program meant for you the first contact with the clinical environment? If so what was the difference between seeing it in a real life and reading or watching videos about it?
I volunteered for two years at Sharp Mercy Hospital in the maternity and intensive care unit. But here in Neurosurgery Specialized Center, it was my first time seeing THE surgery. I have seen some videos and movies about surgery but it is a real difference between seeing someone actually performing it and just watching it on a screen. Everything the whole surgery teams put into getting it right and correctly was awesome to observe. When I saw it in real life I started to think about different fields of medicine and what I could do. I decided that I want to do some kind of surgery for sure because it's so interesting to me, and it really helped me to pick a career choice that I really want to be in just because it was so different.

Learn about the Benefits of the CHP Program
A number of surgeries they actually have to make each day and each week, I think it is over 1.000 surgeries per year. They have to do things from fixing an artery on a wrist to operating on a brain of an epileptic patient and it's amazing how different each surgery is and how diverse their actual education goes in terms of how much they need to know and learn to be able to complete these surgeries and discover new ways and methods.
If you could compare the Czech Healthcare system to the US one, do you see some differences and similarities?
There are lot of similarities I see as far as cleanliness and hygiene, hospital rules, hospital etiquette and stuff like that but there is a difference between Czech hospitals and American hospitals in the aspect that while the American doctors are seen as very respectable, which is the same way Czech doctors are, they kind of get their heads about it, maybe American doctors don't appreciate the nurses and the hospital staff as much as they should. In the University Hospital in Motol, you can really see that they are more of a team and they are really colleagues instead of just bosses and employees.
One thing I do find weird though is that in American hospitals you are not allowed to wear sandals but in Czech hospitals you do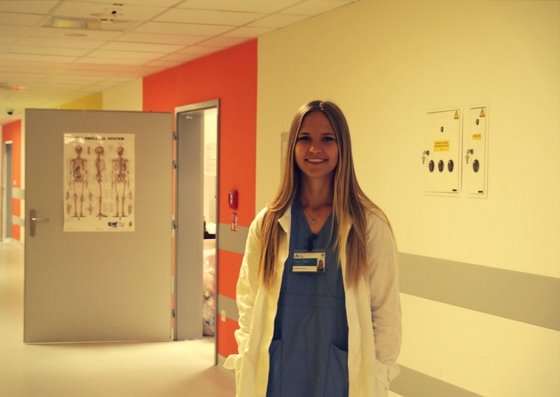 What was your motivation to take part in the CHP Program?
I have come to visit my Dad who works here and I really wanted to do something for myself during the summer in terms of gaining experience in medicine. I went through extensive research trying to find the right program for me and this one seemed to fit the most since I have never shadowed a doctor before.
I have seen doctors, of course, I volunteered for two years in a hospital but this is totally different because you get to know them one on one and really see the everyday life of the surgeon or whatever doctor you are shadowing and just the experience alone is really helpful.
Watching the surgeries were the best moments considering it is extremely different to see in person. It really helped me with finding what I want to become in the future. The experience was extremely helpful in seeing how hospital functions and really getting into the specifics of the placements I was with.
Can you describe your average day here and your experience?
First of all, on an average day, you go in and meet with your mentor, who is usually always someone different so you get to know the whole surgical team. They introduce you to other doctors and you follow them to see every patient. Despite the doctors' rounds are in Czech, they also translate it to English so that you can understand which is very nice from them, to take the time out to do so. After that, we usually go to see the surgery that surgeon is going to perform and they tell you more about the case. Of course, each c case is significantly different from another one, for example, yesterday, I saw a patient suffering from epilepsy and the day before a pediatric patient with a spinal malformation. Another day, I saw a patient who needed the cerebral spinal fluid drained.
Overall, each day is never the same and always exciting and you get to see a wide range of performances. After the placement, we usually do excursions or tutorials which are really helpful. For example, I have tried stitching for the first time there. It was really helpful and interesting because I just saw that and thought "I really want to know how to do that" because the doctor Martin made it look so easy but it was so actually hard.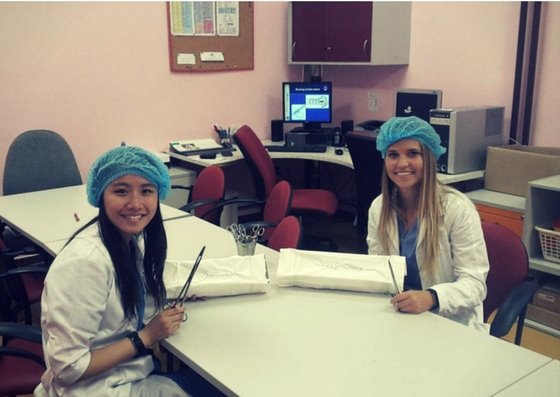 What is Your motivation to further continue in your studies?
My motivation is the great feeling you get when you help others. I run a club at my school and we go to Mexico very often, at least twice a month we help underdeveloped areas. We build houses and run clinics, for example, the week before I came to the Czech Republic we went to Mexico to build wheelchair and we gave it to a paralyzed five-year-old child. That feeling you get when you help people is what motivates me.
How do you like Prague and the Czech Republic so far?
I really like it, it's a lot different than America, both architecturally and just the people in general, I noticed that people say "Hi" to everyone, especially in the hospital and I just love that friendly environment in the Czech Republic. It's so different from America, there is no real comparison.  
Contact us at info@chpprogram.com if you want to find out more about the Czech Hospital Placements Program or download our CHP Program Brochure to have all the information about the specialty clinical experience summed up.