Student of the Week: Jia Jia, the Future Pediatrician from Harvard
Written by Czech Hospital Placements on Wednesday, July 12, 2017
CHP Program students, reviews, personal experience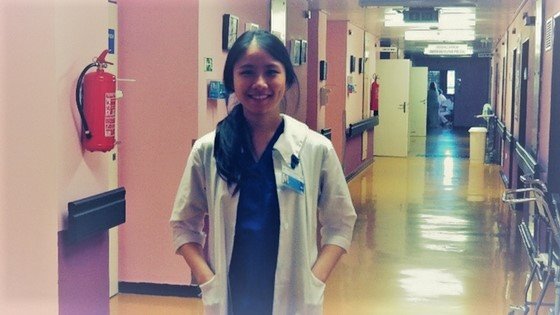 In our Student of the Week series, we will introduce one of our students and their experience during the program. Jia Jia Zhang comes from the Pacific island of Guam, USA, and she is a Harvard freshman with an interest in Neurosurgery, Cardiology and Cardiovascular Surgery specialties, in which she shadowed several CHP Program mentors during her 3 weeks placement in the University Hospital in Motol. What was her experience like and how does she feel as a healthcare professional-to-be?
Why did you decide to become a healthcare professional?
Doctors are very much like modern day superheroes. They come to the aid of others with a skill set the average person does not possess. I believe they should be kind, compassionate, and generous—their lives dedicated solely to the sickly and weak. Throughout my life, I've been helped by numerous doctors. My pediatrician tended to checkups and minor illnesses. She was gentle and soothing. Some kids find the antiseptic smell, the gloves, the masks all daunting, but I found trips to the doctor quite contrary. I was so attached to my pediatrician that I never saw an adult doctor despite reaching far past the age scope.
During my junior year of high school, I was able to attend a medical mission in Olongapo, Philippines—a place engulfed in poverty. And there I was able to witness surgeries first hand. Prior to the medical mission, I was unsure of whether I could handle the gravity of surgery, but the experience opened my eyes to the brilliance and beauty of surgery as well as the instant gratification following an operation. Now I wish to become a pediatric surgeon and hopefully lead a medical mission in the future for children in impoverished countries.
What specialties have you chosen for your shadowing in the CHP Program and why?
When I was at the medical mission there was a significant lack of proper medical equipment at the hospital so I could not see, for example, a Neurosurgery or Cardiovascular Surgery being conducted because they had neither the facilities nor capabilities to do such surgeries. I signed up for the specializations to gain a broader spectrum of understanding of other fields of surgery and to gauge whether I would have a greater interest in one or another. I also definitely wanted to do something with children so that is why I also signed up for shadowing the Children's Heart Center.
I believe that, as a woman, I possess an instantaneous connection and bond with children. They are so innocent and have yet to live a life, so I feel the responsibility and satisfaction that comes with operating and caring for a child is greater. Operating on children is much more demanding because you are not only taking care of a patient but also carrying the life of a very, very beloved child and there are obviously parents who are very, very concerned. Any missteps and trauma that could ensue an operation could be very hard to deal with and amend. This is one of the reasons I reconsidered going into pediatrics because sometimes I find that the emotional burden might be difficult to shoulder, but we'll see.
Jia Jia and doctor Aleš Vlasák are looking at the 3D MRI scan of one of the neurosurgical patients
How helpful have you found the time spent shadowing the CHP Program mentors in various fields?
The mentors are incredible at all of the specialized centers I worked in. Very passionate and driven about each of their individual fields, the doctors and nurses have made it such a joy to be on the receiving end of all their knowledge and enthusiasm. I am so grateful that they take time out of their busy workdays to incorporate me into their schedule. During operations, the surgeons would explain to me what part of the anatomy they are operating on and what procedures they are performing. Whenever I had any questions, they answered without hesitation. I loved all my mentors and it's been such an honor and privilege to work with all of them.
Have you gained new knowledge and learned new facts about your desired specialties?
I have gained an incredible amount of knowledge from the fields I signed up for, not only from preparation materials for the shadowing but also from the doctors and nurses themselves. I have yet to take anatomy, but I feel that I have really gotten a headstart from how much exposure I've had to the terminology and seeing the actual parts in person. 
Apart from my shadowing hours at the departments, I was looking forward to all the tutorials and excursions. For instance, one of the clinical sessions I had participated in introduced some of the modern day technology neurosurgeons use, such as the neuronavigation program. Through the employment of such technology, a neurosurgeon is able to pinpoint where exactly a tumor is or where they need to operate on. Dr. Martin Bláha, a neurosurgeon, and the host of the tutorial, also explained the Glasgow Coma Scale as a tool for rating the consciousness of a patient and had us students practice it on each other. 
If you could compare the Czech Healthcare system to other systems, do you see some differences or similarities?
The Czech Healthcare system is very comprehensive in terms of hospital care for its citizens. The people who come into the outpatient department do not need to worry about whether they are covered or not in terms of insurance. That to me is such a great privilege to have because in America, the healthcare system is still highly privatized and health care is not affordable to all. My family does not have health insurance, so every doctor's or hospital visit comes straight out of our pockets and it is sad to have to weigh the urgency of one's illness against the amount of money we would have to pay for the care. In addition, Czech citizens can be assured that the level of care they receive is the same across the board by law. In China, where corruption is blatantly present, the level of care one receives varies greatly by how much money is paid to the doctors.
What I find great about the University Hospital in Motol is how accommodating it is to its patients. Near the pediatric ward, I can see a beautiful playground and fun activities taking place for the children staying there. In addition, there are large apartment-like complexes for families to stay in, so relatives and friends can be closer to their loved ones.
What was Your motivation to attend the CHP Program?
I had never been to Europe prior to this program, so a Czech friend of mine suggested I pick something to do in the Czech Republic as not only a place to intern but to explore as an introduction to Europe--effectively killing two birds with one stone
 And when I searched for shadowing programs, the CHP Program immediately popped up. I could tell from the website that the program was very well thought. Furthermore, it had a flexible schedule and offered departments and specializations I had never seen before. I also wanted to shadow doctors again, because ever since a medical mission I partook in, I craved more experiences such as that. Education in the classroom is really great but sometimes you need to see what you will be doing in the end, your life's purpose, to continue motivating you to push further.
I was able to achieve my personal goals that I had set out prior to this program. I wanted to get a better sense of whether I could handle the emotional weight that comes with being a pediatric surgeon, and after my time in the Children's Heart Center, I found not only my passion--tending to children--but also realized that I am capable of detaching myself from the patient. I really look forward to a future in pediatrics and am happy I found my resolve here in the CHP program.
How do you like Prague and the Czech Republic so far?
Prague has a lot more greenery compared to where I'm from and I think that aspect combined with the architectural design make it be an alluring and charming city. Being here has also provided me a chance to escape from the hustle bustle of the city and really just soak in the beauty of life. Sometimes when you are in a big city you feel very cold and alone, but here I feel a lot of warmth emanating from the environment and the people.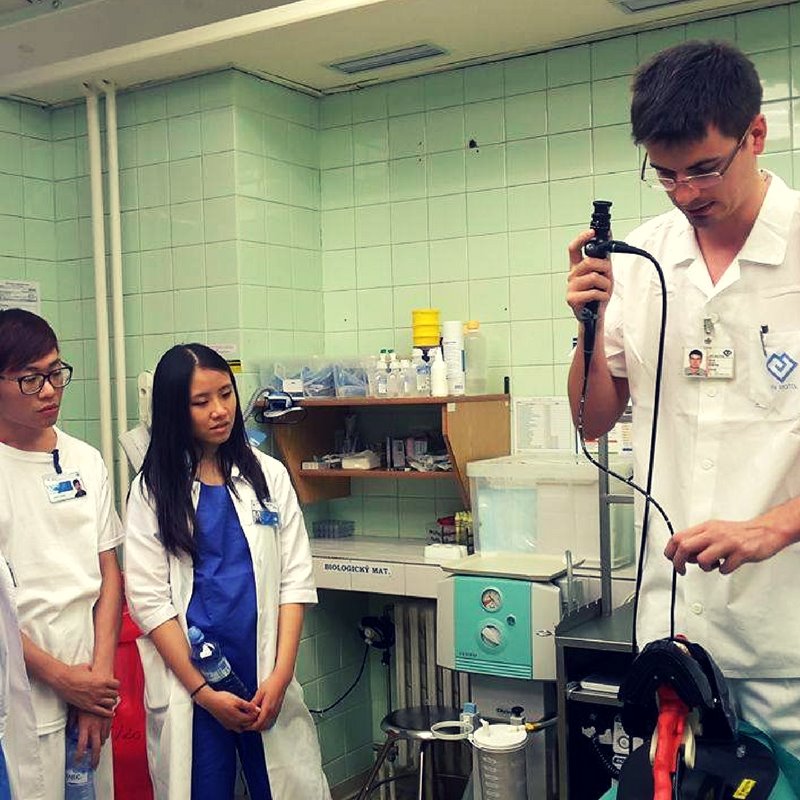 Training of bronchoscopy with doctor Ondřej Sobotík during the excursion to the Pulmonology Specialized Center
What is your motivation for your studies?
People should do more kind acts but there is that instant gratification you get when you help another person and it's honestly pretty addicting. Also with surgery, you can get that instant gratification as well, for example when you are replacing the skull and you can immediately see the skull has been reshaped and their head is back into its normal form again or if they have a tumor you can remove it and the tumor is no longer there anymore. Because of the surgery and how it's performed all the results are pretty immediate and visible and also helping people as well. It's a very honorable position to be in, it's a privilege to be able to help people because not everyone can do it. It's a privilege to be a surgeon.
What is Your personal motto?
No one has ever become poor by giving - Anne Frank
Contact us at info@chpprogram.com if you want to find out more about the Czech Hospital Placements Program or download our CHP Program Brochure to have all the information about the specialty clinical experience summed up. 

What are Jia Jia's mentors saying about her? 
Jia Jia's approach during her placement in the Children's Heart Center was both at the time - professional and friendly. She is nice and smart and the way how she behaved to the children at our Center was simply amazing. In between the procedures she always made her time to come to the kid's bedside. She also developed instantly a good relationship with patients and the staff, too.  Nikola Hanzlíková, Children's Heart Center

I really enjoyed spending time with Jia Jia. She was interested in everything she saw and heard. It was obvious that she has the overview about cardiovascular surgeries, she understood many things without explanation. She was nice, polite and very grateful. Anna Palánová, Cardiovascular Surgery Specialized Center