What Motivates Doctors to Keep on Doing Their Job with Passion?
Written by Czech Hospital Placements on Monday, May 9, 2016
University Hospital In Motol Mentors Shadowing Operating Room Anesthesiology Intensive Care Resuscitation Motivation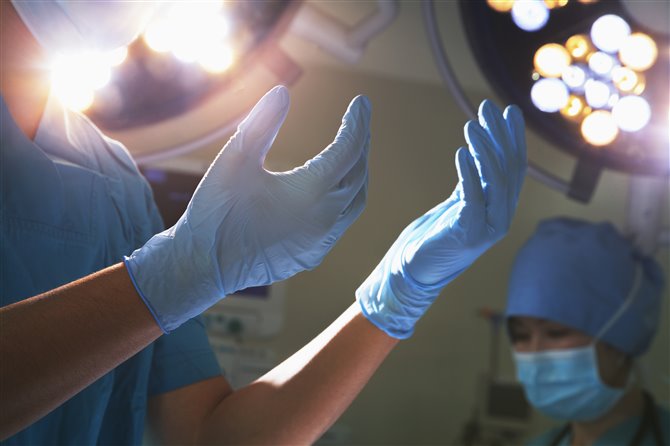 If you have decided to become a healthcare professional, it´s going to be a long path with many struggles and obstacles. Sleepless nights, exams, constant studying and extreme stress are one part of it. But hang in there! The possibility to speak with someone who overcame all the problems you are facing is worth it. Read why our mentors, doctors in the Anaesthesiology, Resuscitation and Intensive Care Medicine Specialized Center, love their job. What keeps them to hold on specifically in this demanding field?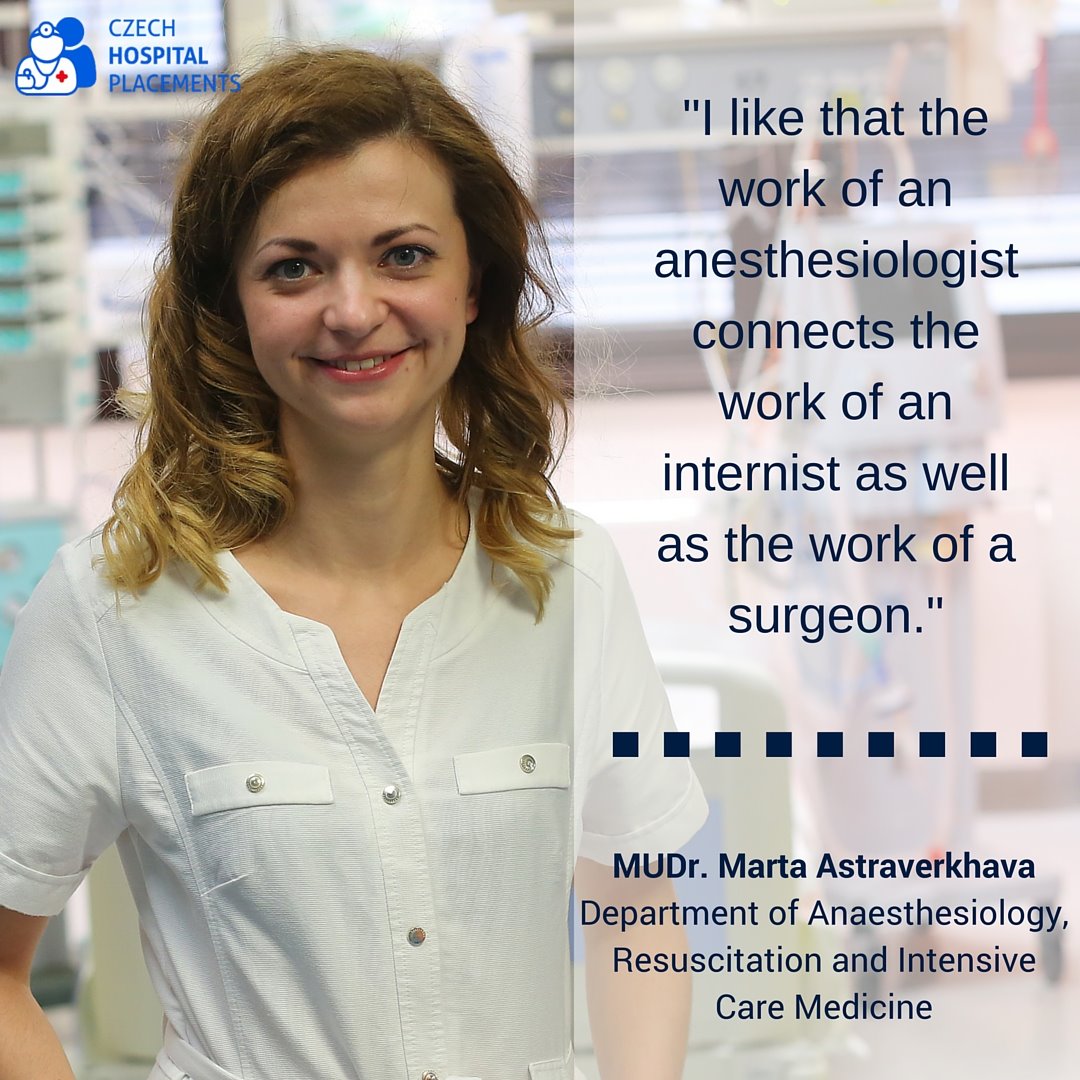 I like working in a team. The work of an anesthesiologist, in cooperation with a nurse anesthetist, the patient's doctor, and an operation nurse is a key factor for the recovery of a patient. I still tell myself that the life of a patient is undetectably connected to the abilities of an anesthesiologist, and for that reason I try to educate myself constantly. I enjoy implementing new technologies and procedures during my everyday work, but I always remember that the patient's safety comes first.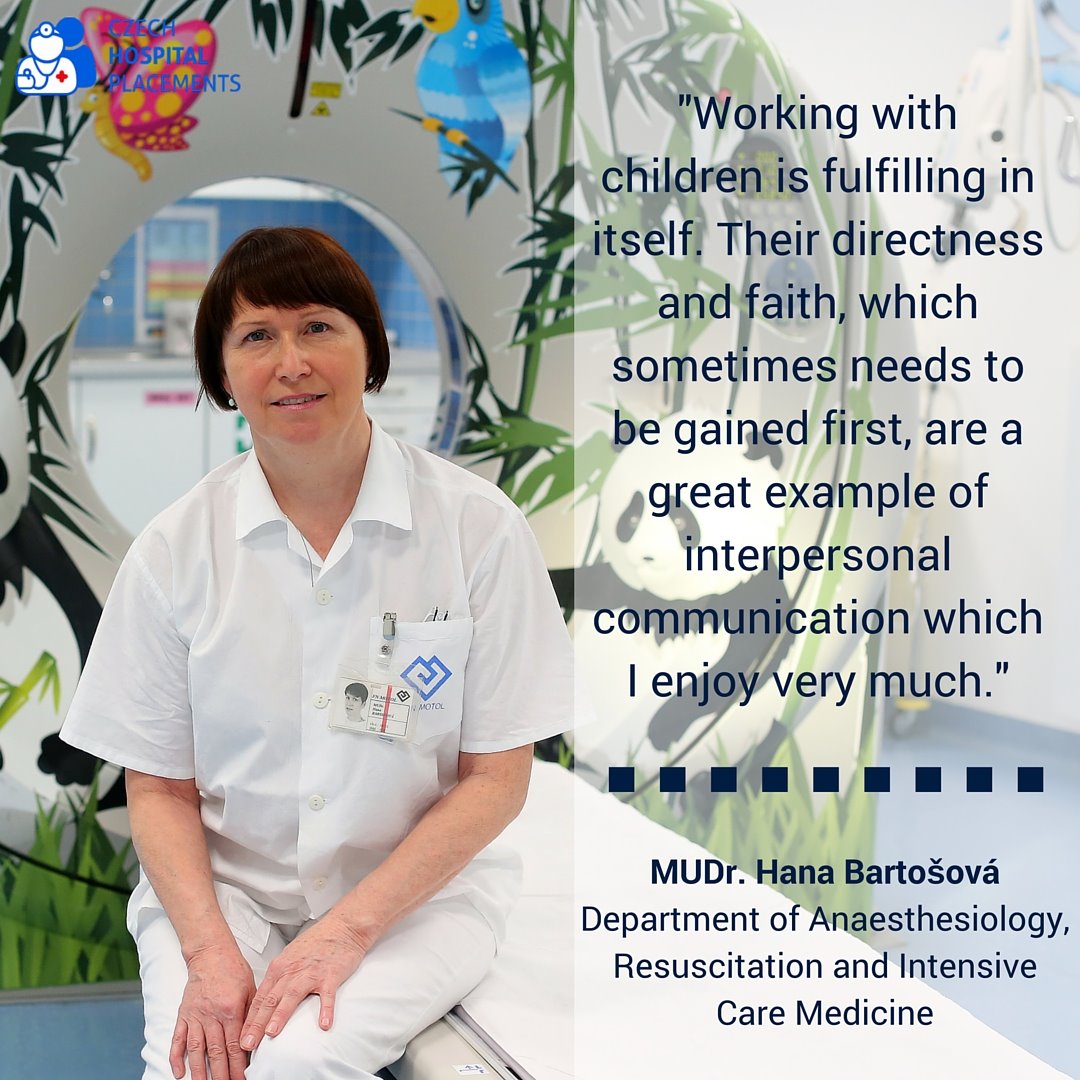 Having experience in a real clinical environment can be a precious investment into your future professional life, as you will gain first-hand experience, instead of hearing about it from someone else. It can help you to avoid mistakes in your judgment and on the other hand help you to make successful life choices. During my studies I was very influenced by shadowing 2 doctors and therefore I understand the importance of programs such as the CHP Program and wanted to take part in it as well. I want to help future healthcare professionals make the right choices. I hope you will get a good picture of what the profession entails.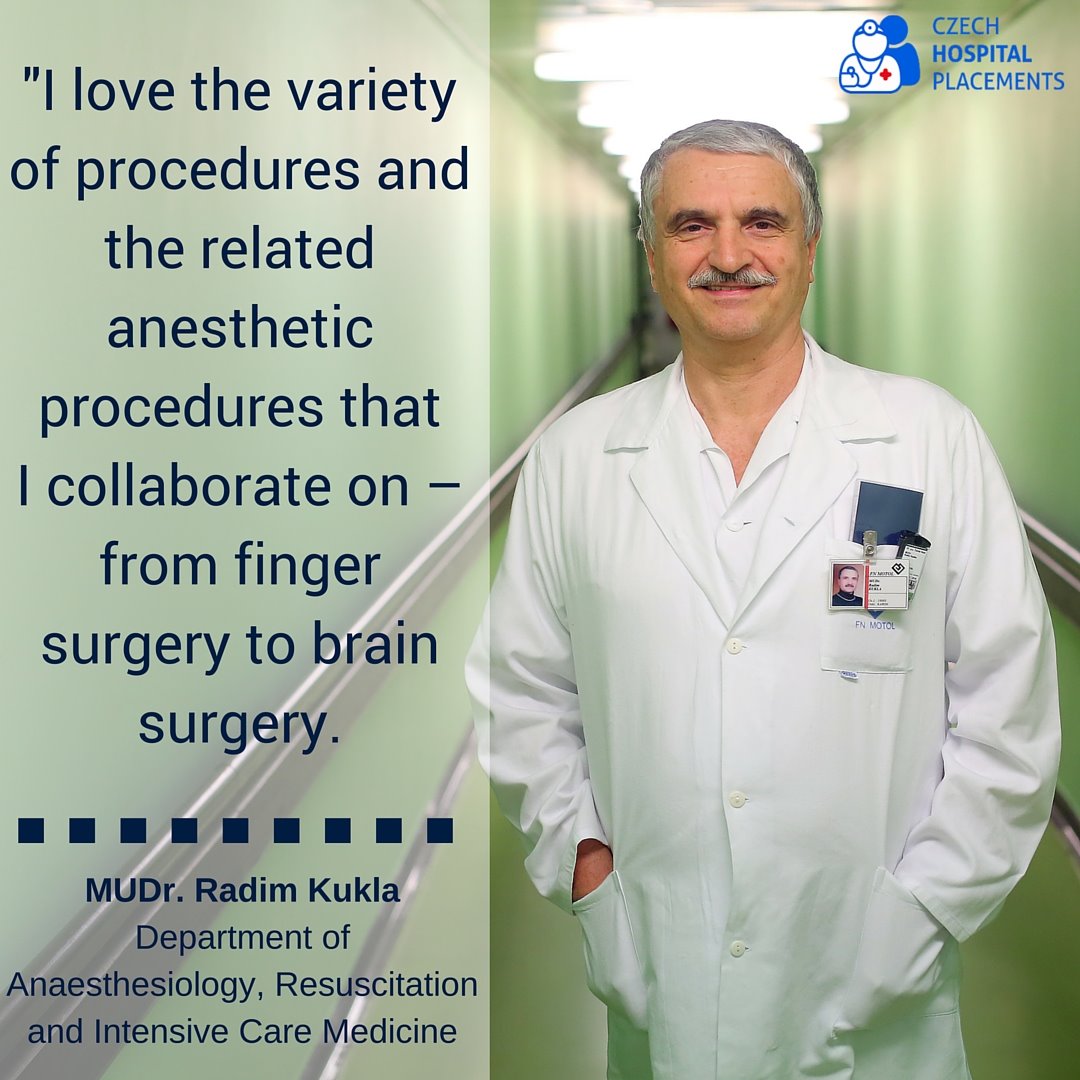 I love the variety of procedures and the related anesthetic procedures that I collaborate on – from finger surgery to brain surgery. The number of procedures further increases if I am on call. In that case, I participate in a vast array of procedures in different specialties, such as traumatology, gynecology (from gynecological bleeding to acute C-section), urology, orthopedics, and abdominal and vascular surgery. University Hospital in Motol specializes in the majority of medical branches, including cardiac surgery, which has its own anesthesia care team. Sometimes it is difficult to fight the fatigue that can occur during surgery, but in the end it is always worth it.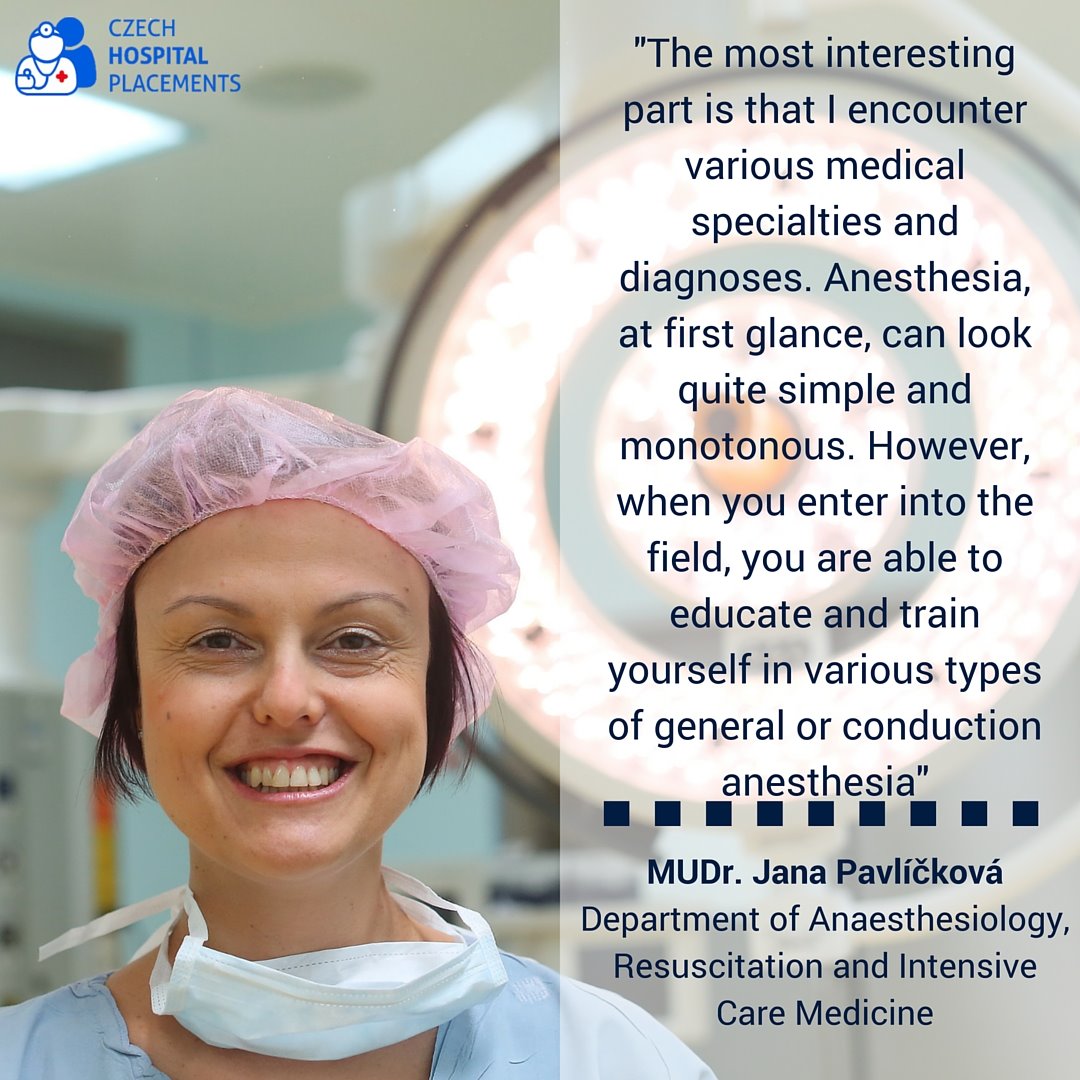 The most interesting part is that I encounter various medical specialties and diagnoses. Anesthesia, at first glance, can appear quite simple and monotonous. However, when you enter the field, you are able to educate and train yourself in various types of general or conduction anesthesia. You will understand that it is very interesting and challenging, both mentally and physically. What I find the most satisfying in my work is that I guide little patients through the perioperative period, which is very difficult for them, not only in large operations, but also in small and often routine procedures.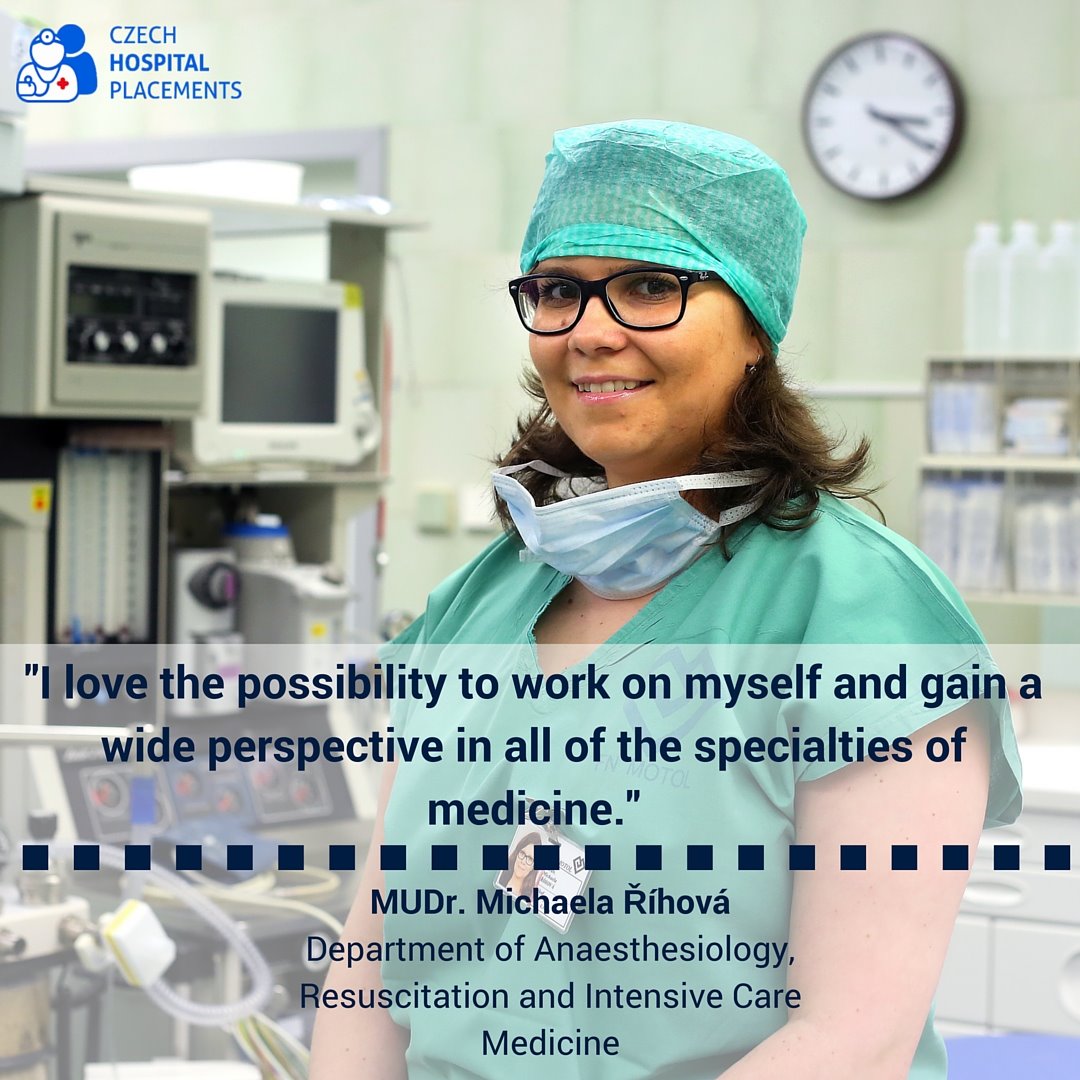 Every day I meet new people, and every day I gain new experiences. I appreciate the possibility to better myself and gain a wide perspective in all of the specialties of medicine. Thanks to my older and more experienced colleagues I still learn new approaches and methods. Our unit provides care to critically injured patients. The trauma center within our hospital gives us the ability to take care of patients brought to the hospital by ambulance or helicopter. I fell in love with the resuscitation unit from the very beginning.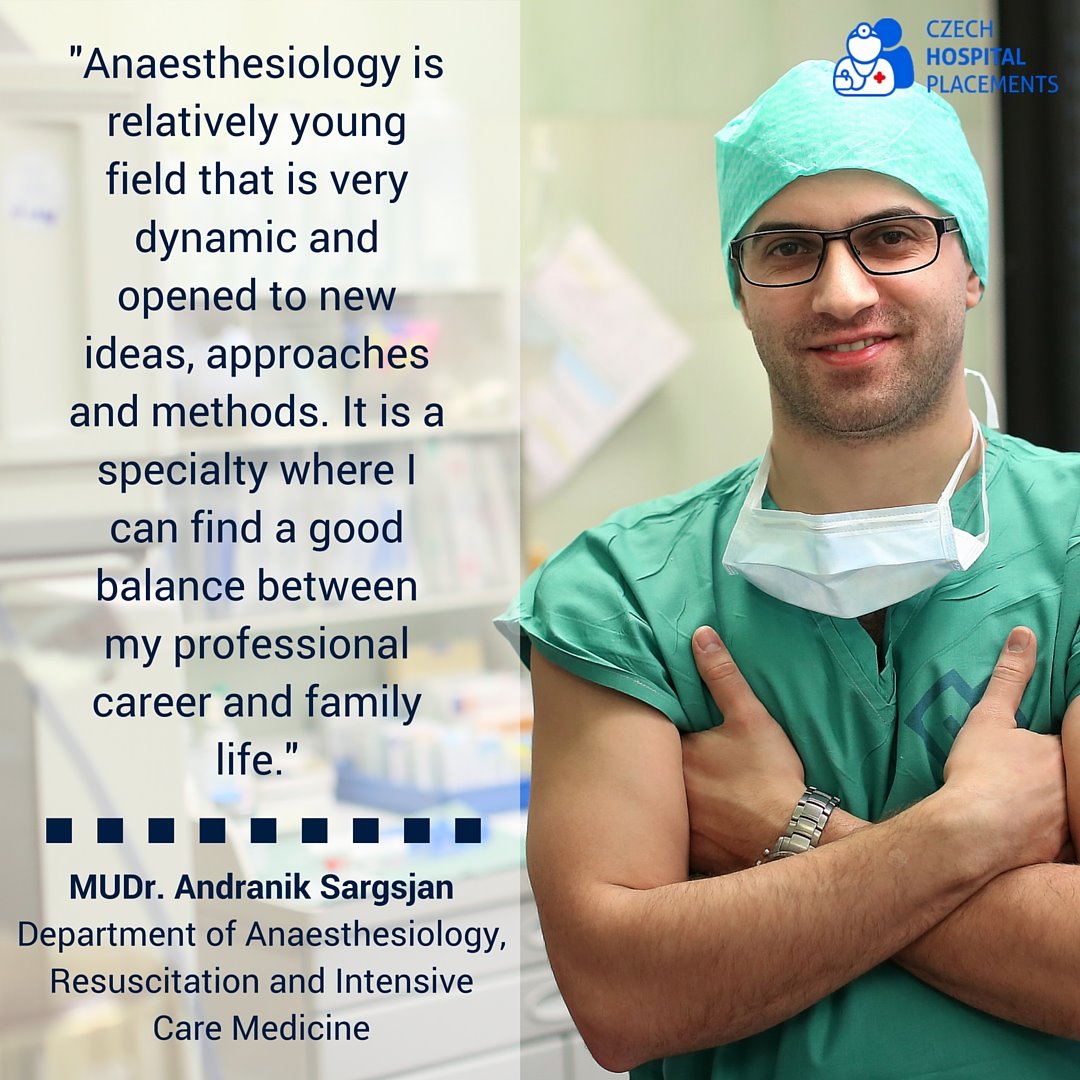 Being a doctor is very hard and sometimes not immediately gratifying for obvious reasons – taking care of people that are dependent on the help of others. Nevertheless, it brings the one thing that other professions cannot: the power to help a person in need, exactly when we need to deal with the incorrigible – human life.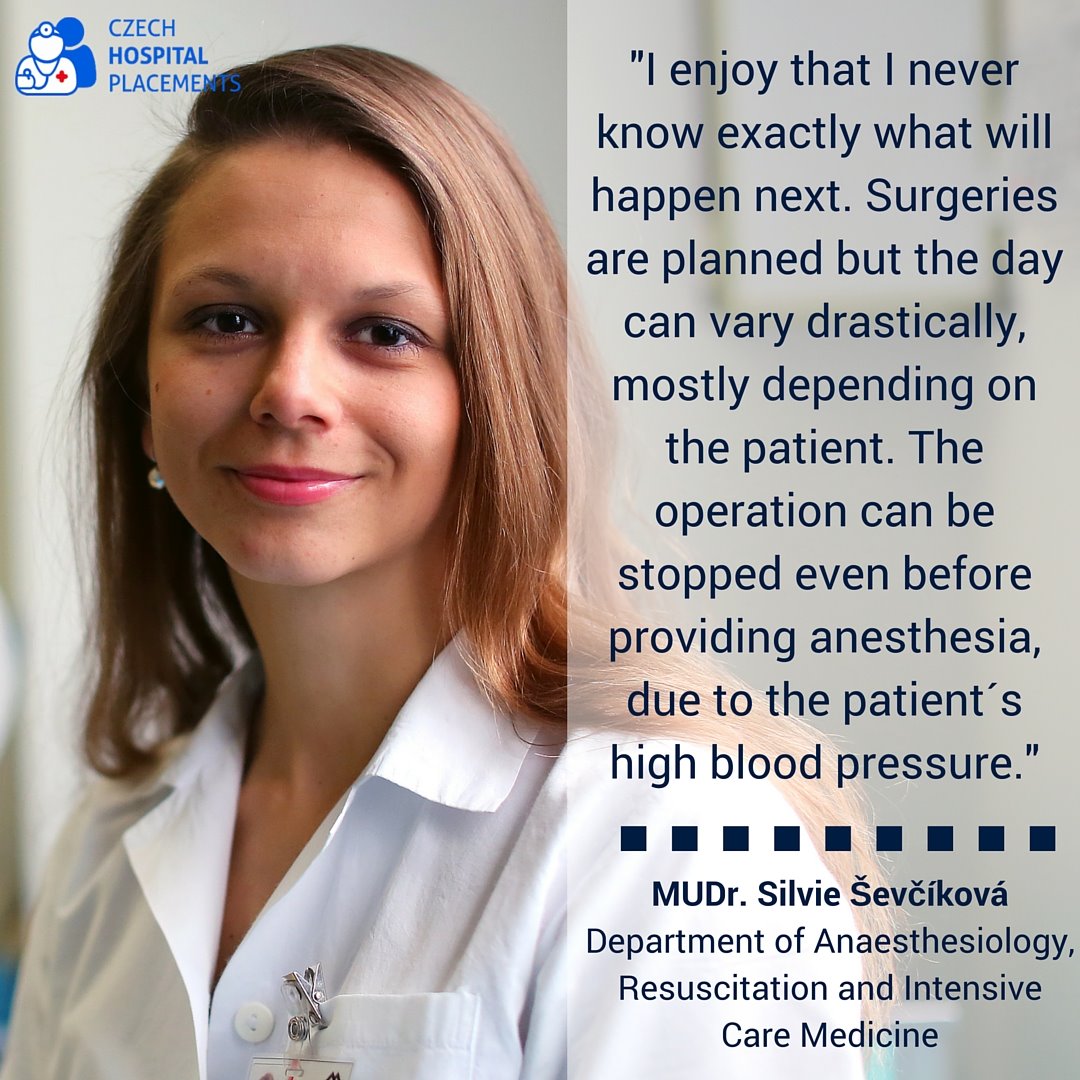 I love the creativity in my job, and the documentation is bearable. I enjoy that I never know exactly what will happen next. Surgeries are planned but the day can vary drastically, mostly depending on the patient. The operation can be stopped even before providing anesthesia, due to the patient´s high blood pressure. The surgery plan can be changed according to a new discovery even during the operation. The same applies when the patient takes a long time to awaken from anesthesia and in the case of personal plans for leisure time after the shift, the surgeons come up with a patient who must be operated on immediately. It is truly an amazing field.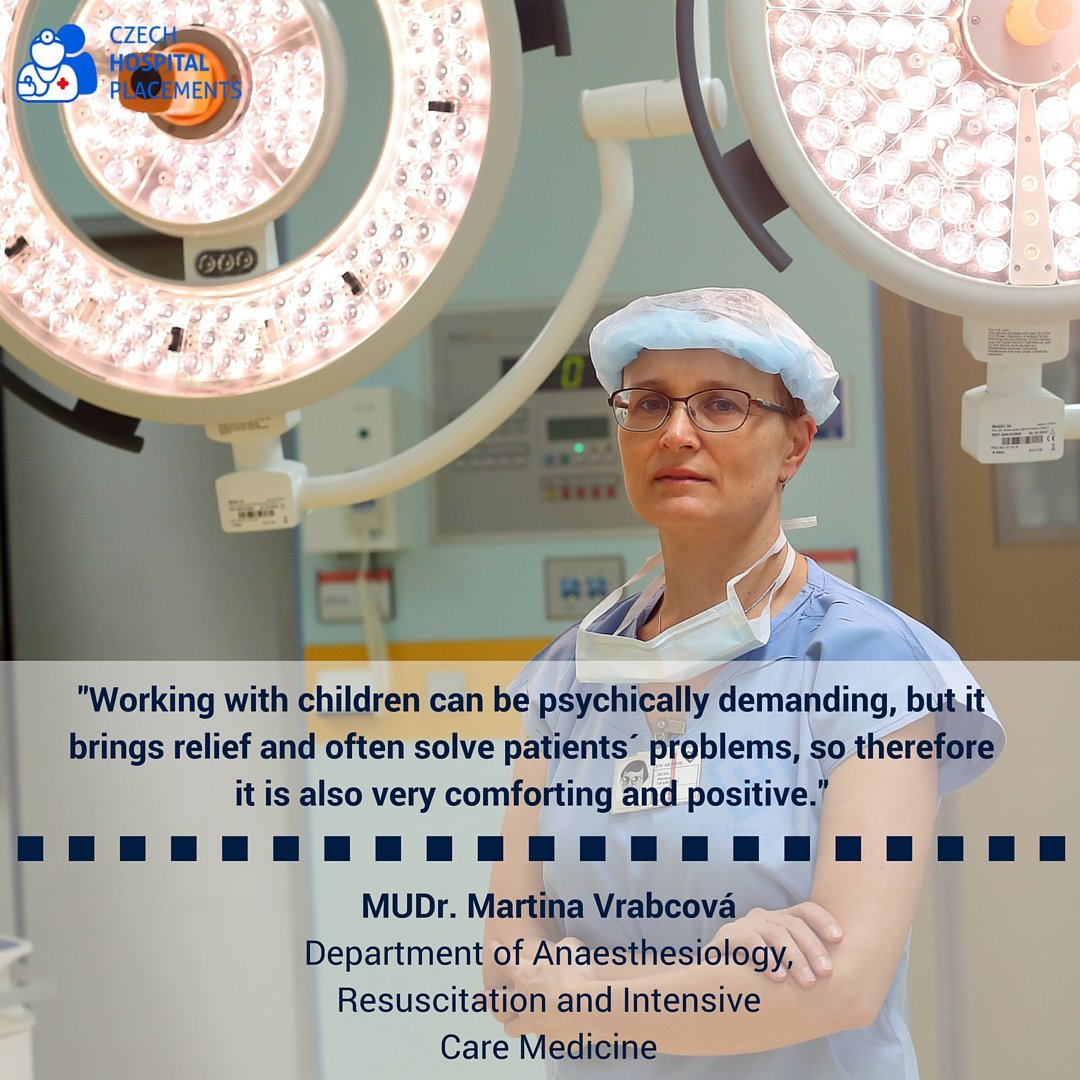 I meet a lot of patients with multiple diagnoses. Thanks to a great expansion in the field of medicine and surgical procedures I still find new procedures and I have to educate myself in the field – higher polymorbidity and age of patients, surgeries of premature babies, pushing the boundaries to perform certain procedures. Anesthesiologists meet with completely healthy patients that get to the hospital due to an injury or planned minor surgery. But anesthesiologists also meet with severely diseased patients that are undergoing a demanding treatment or a surgery and taking care of them requires an interdisciplinary cooperation.
Do you want to know more about real medical environment? Look at the website of Czech Hospital Placements Program and experience it yourself.