Meet the Head of the Neurosurgery Department of the University Hospital in Motol
Written by Czech Hospital Placements on Tuesday, May 17, 2016
Neurosurgery Mentors University Hospital in Motol Shadowing OR Head of the Department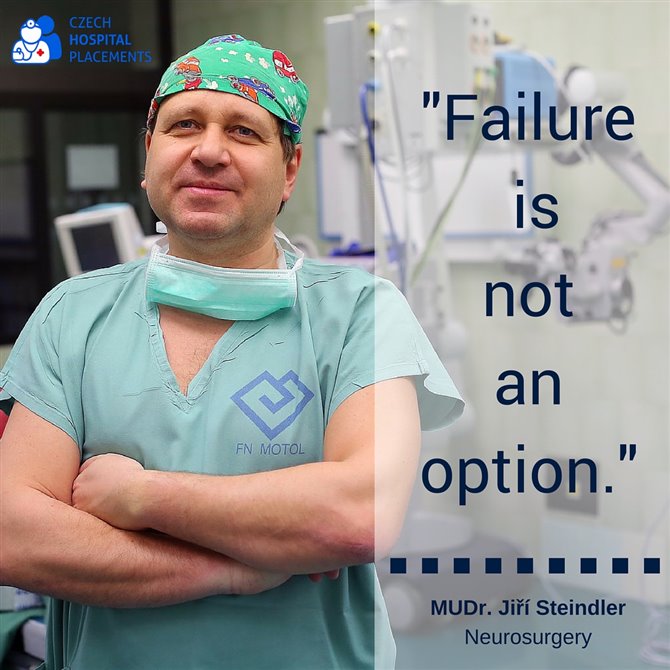 "I honestly believe that neurosurgery is one of the most complex and interesting yet delicate medical specialties, with constantly developing methods and technologies. It is worth mentioning that our department has recently opened a new pediatric ward, which is one of the most advanced centers of its kind in central Europe." says the head of the department of Neurosurgery in University Hospital in Motol, doctor Jiří Steindler.  

The Department of Neurosurgery specializes in treating the most complex device in the universe – the human brain – together with the spine and nerve system via acute or planned procedures. The center is well equipped and performs the most advanced surgeries and procedures on adults and children.

Each year, it admits about 1,200 patients, of which about 1,000 undergo surgery. The outpatient departments care for more than 5,000 people per year.

The center is divided into Adult and Pediatric sections with specialized outpatient departments and patient wards.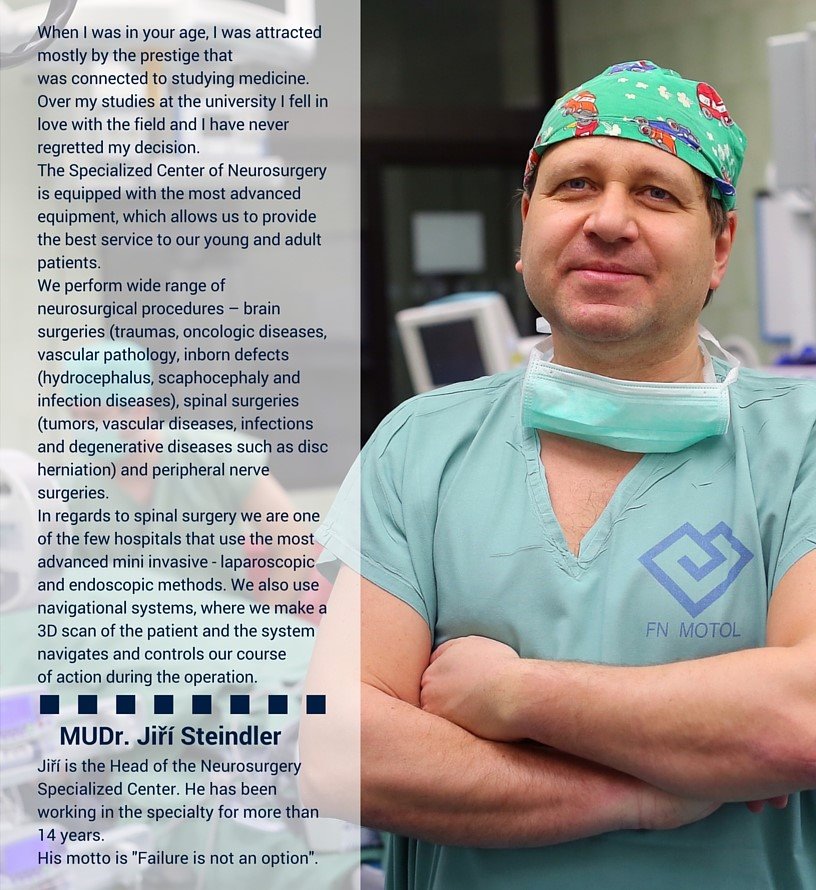 Why did I become a healthcare professional?
Neither of my parents worked in healthcare, however both of my grandfathers were doctors. In the 3rd year of high school I became interested in biology, especially the complexity of systems within human body and how the organ systems connect, and for that reason I decided to become a doctor. I enjoyed the intellectual aspects of studying at a medical university, as well as the challenges that brought with it. At first I was attracted mostly by the prestige that was connected to studying medicine. Over the duration of my studies at the university I fell in love with medicine and I have never regretted my decision.
Neurosurgery is an interesting and complex field. Even if you decide not to pursue neurosurgery in your career, you will, without a doubt, appreciate the knowledge gained during the shadowing.
What do I love the most about my specialty?
What I love about the work of a neurosurgeon is that I am being constantly challenged and forced to improve. It is a complex specialty and its methods, devices, and procedures are being evolved and improved almost every day. Another motivation for me is my colleagues. They are very intelligent, ambitious, and passionate people skilled in the field of neurosurgery. Another huge benefit is that in the University Hospital in Motol, there is a tremendous amount of specialized centers that are all able to cooperate and use their equipment to provide the best possible mental and physical care for our patients.
What can you see by shadowing our team?
You will see everything there is to see about the work of a neurosurgeon. You will witness neurosurgical procedures – brain surgeries (traumas, oncologic diseases, vascular pathology, inborn defects (hydrocephalus, scaphocephaly and infection diseases), spinal surgeries (tumors, vascular diseases, infections and degenerative diseases such as disc herniation) and peripheral nerve surgeries. These operations can vary in their duration. Basic spinal surgeries in adults without instruments last approximately 1 hour, more complicated procedures with instruments last approx. 3 hours, but removing a tumor from the spinal region can last 4 hours and more. The duration of brain surgeries can differ depending on the purpose of the surgery. While surgeries of trauma patients typically last 2 hours, removing a tumor can take anywhere from 4 to 8 hours. When operating in children, the process gets more complicated and every procedure lasts approximately 2 hours longer than in adult patients. I will show you the most advanced methods and equipment applied in practice, and the coordination between departments within the University Hospital in Motol. During the surgery we cooperate with other specialists (e.g. traumatologists, surgeons, abdominal surgeons, vascular surgeons, ENT, eye surgeons and other). Usually our cooperation is planned in advance, but sometimes a problem can occur, which requires us to call for a specialist without previous notice.
Apart from being a healthcare professional…
I love reading, listening to music, and spending time with my family. We travel, but we also enjoy spending time in our cottage. I further enjoy running and tennis, and recently I started to ride my electric bike to work.
My motto…
Failure is not an option.
Look at the Department of Neurosurgery, where you can take a great chance to shadow Jiří and his colleagues working. Explore the types of patient cases they deal with every day and discover the methods they use for a treatment.